Overview
A user with the appropriate rights to a proposal can copy the proposal with some/all of the elements into a new proposal record.  The copy function can be accessed in the Proposal itself via the copy button in the top header.
Also, in the Proposal lookup you can also use the copy button next to the desired proposal record.
Upon clicking copy the user will be given options to select to change/include in the proposal copy.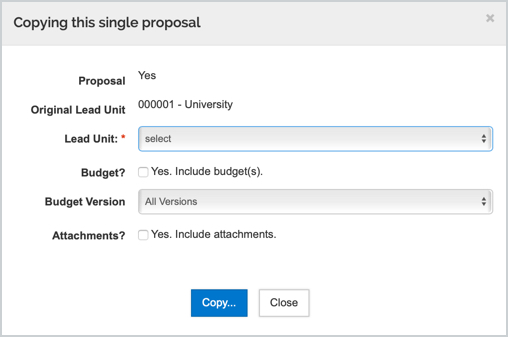 Lead Unit:  You can select a different Lead Unit if desired (or the same Lead Unit) when copying over the proposal record.  Be aware that Lead Unit cannot be changed in a proposal.
Budget:  If a budget exists in the proposal you can select whether to include the budget in the copied proposal
Budget Version:  If a budget exists in the proposal you can also select whether to include All Versions (if multiple versions exist) or For Submission Version (the budget marked for submission).
Attachments:  If attachments exist in the Attachments tab of the proposal you can select to carry those over in the copied proposal.
Upon clicking 'Copy' the system will generate the newly copied proposal and take you into the record in edit mode.  You can also see if a record was copied in the Document Info header in the top righthand corner.
Proposal Hierarchy
If a proposal is part of a Proposal Hierarchy (either a Parent or Child) and you click the copy button you will see this prompt.
Copy entire hierarchy:  It will copy the entire hierarchy (Parent and all Children); it will open into the newly generated Parent record.
Copy this proposal alone:  It will copy just this proposal in the hierarchy as a stand alone proposal (not part of a hierarchy).