PHS 398 Research Training Program Plan Form
The Grants.gov PHS 398 Research Training Program Plan form can transmit the necessary files required for your application.  You should check your program announcement for instructions on which attachments should be included and the formatting of those attachments.  Below outlines how to add the necessary attachments in Kuali to map to the given attachment field in the form.
Instructions
Once a Grants.gov opportunity containing the PHS 398 Research Training Program Plan form is attached and marked as included in your federally-sponsored proposal you can follow the following instructions to populate/map the necessary attachments.
Navigate to the Kuali Research Attachments tab -> Proposal panel
Select the +Add button to create a new attachment
Select the desired Attachment Type associated with this form - all start with 'PHS_ResTrainingPlan'
For example, select 'PHS_ResTrainingPlan_ProgramPlan' which is the one mandatory attachment required prior to print/submit
Select Status of 'Complete'
Enter a Description (optional if attachment type doesn't allow multiple)
Upload the desired Attachment
Click 'Save'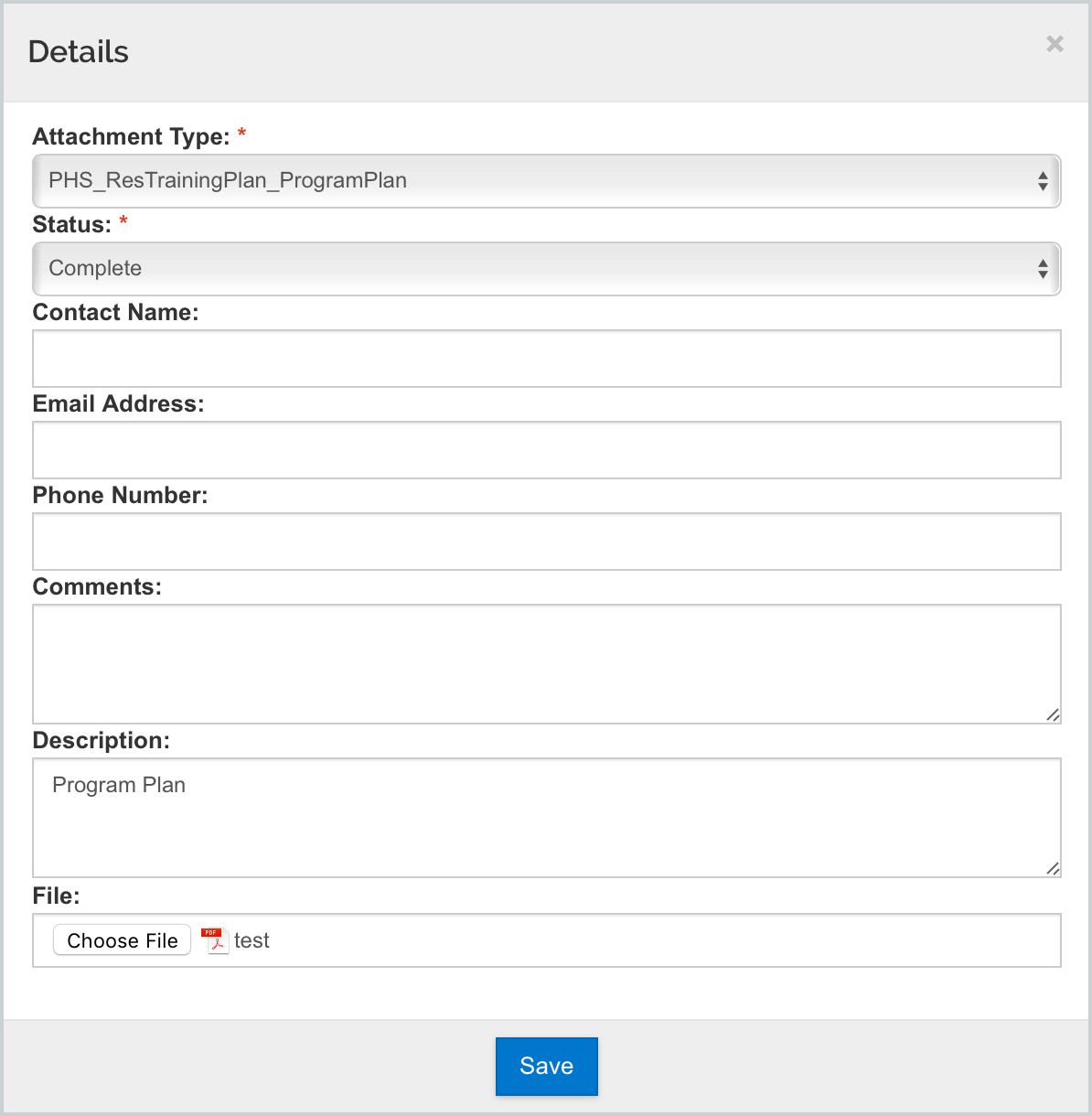 Repeat the above steps for the additional attachments you need to add to this form and please refer to your program announcement for instructions on the files required for the application.  The below chart outlines the Attachment Types that map to the associated section in the form.
Form Section
Kuali Attachment Type

Kuali Narrative Type ID

1. Introduction to Application
(for RESUBMISSION or REVISION only)

PHS_ResTrainingPlan_Introduction

112

2. * Program Plan

PHS_ResTrainingPlan_ProgramPlan

114

3. Plan for Instruction in the Responsible Conduct of Research

PHS_ResTrainingPlan_RespConductResearch

116

4. Plan for Instruction in Methods for Enhancing Reproducibility

PHS_ResTrainingPlan_MethodsEnhanceRepro

151

5. Multiple PD/PI Leadership Plan (if applicable)

PHS_ResTrainingPlan_PILeadershipPlan

121

6. Progress Report (for Renewal applications)

PHS_ResTrainingPlan_ProgressReport

117

7. Participating Faculty Biosketches

PHS_ResTrainingPlan_FacBiosketches

123

8. Letters of Support

PHS_ResTrainingPlan_SupportLetters

125

9. Data Tables

PHS_ResTrainingPlan_DataTables

124

10. Vertebrate Animals

PHS_ResTrainingPlan_VertAnimals

119

11. Select Agent Research

PHS_ResTrainingPlan_SelectAgentResearch

120 

12. Consortium/Contractual Arrangements

 PHS_ResTrainingPlan_ConsContractual

122

13. Appendix

PHS_ResTrainingPlan_Appendix

126
Print/Submit
After successfully uploading the attachment(s) go to the S2S Opportunity Search tab -> Forms panel
Check the PHS398_ResearchTrainingProgramPlan form in the select column and click the 'Create PDF' button
Also, if this form needs to be included in the submission remember to check the 'Include' checkbox prior to final submission to Grants.gov.
Upon Print and/or Submission the form will populate like below with the referenced attachments appended behind the form.
Current Version:
PHS398_ResearchTrainingProgramPlan_4_0
Past Version(s):
PHS398_ResearchTrainingProgramPlan_3_0

PHS398_ResearchTrainingProgramPlan_2_0

PHS398_ResearchTrainingProgramPlan-V1.0