Overview
The Kuali Research Dashboard provides configuration options to display or hide various pieces of the dashboard at a global or user specific level. Below outlines how to enable the entire dashboard UI, Proposal Workload Assignment card, and also the different configuration options within the dashboard at a global/user level.
More information on using the Kuali Research Dashboard can be found in the Dashboard section of the knowledge base.
NOTE: On premise implementers will also need Core to run the new dashboard.
Dashboard Configuration
The Configuration link on the left sidebar allows you to configure what displays at a global level in the rest of the Kuali Research interface for all users. Users with Admin in their Core user profile will have access to the Configuration tab option in the sidebar.

Within the Configuration you can toggle on/off certain options that display in the Common Tasks, All Links, and Dashboard Home sections of the dashboard. For hosted customers, some modules may not be accessible by default based on their subscription of services. You can also set general setting configurations.
In General settings you can set the appropriate workflow stop in the 'Workload Balancing Priority Stop' field which determines which stop is used for proposals listed in the Proposal Workflow Assignments card in the Dashboard Home page. You can also enable the 'Enforce Workload Balancing Table Permissions' which if enabled will only show the Proposal workload assignments card if the user has the appropriate permissions to view records in the card. If disabled (default) the Proposal workload assignments card will show for all users.
User Specific Configuration
Within the Dashboard Home link individual users can set their own preferences of what displays in the Dashboard Main sections.
The Show/hide sections button in the top righthand corner gives users a toggle window to display what's in their personal Dashboard Main page. These settings only apply to the specific user.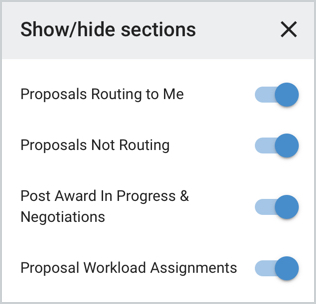 Related Parameter(s)
To enable the new Kuali Research dashboard and the Proposal Workload Assignments functionality you can set the Dashboard_Mode_Enabled parameter to true.
Permissions
The Proposal Workload Assignments card available in the Dashboard gives users with the appropriate permission the ability to assign proposals to individuals in a specified workflow stop. More information on using this functionality can be found in the Dashboard Home article. To have the assign ability in the Proposal Workload Assignments users must have the Permission 'Assign Proposal Development Workload Approver' (RESBOOT-1008) - this permission is automatically included in the OSP Administrator role.