Kuali is rolling out improvements to the look and feel of the Conflict of Interest module to enhance the overall user experience. These improvements have been enabled in all customer STG and SBX environments so you can see how the changes will look and function. We will be enabling in Production environments on January 19th. Below outlines the forthcoming changes and if you have any questions please feel free to submit a support ticket.
New Update Disclosure Experience
We've brought more clarity to our Disclosures screen. By default, disclosure history is hidden to help highlight the current state of a reporter's disclosure. We've added important details about the latest disclosure such as when the last action was taken, the expiration date, and the current disclosure status. If the disclosure requires an update it will also indicate to the user what new projects have triggered an update. We've also introduced a more discoverable button for updating a disclosure to be the main call to action on the page. Overall, these changes will help reduce reporters' confusion around their disclosure's current status and how to take action to update it.
New Sidebar Navigation
We've updated our sidebar navigation with the same great look and feel the rest of Kuali Research modules have which will make navigating to other Kuali modules and accessing other options a snap. Towards the bottom of the left sidebar, there are the below links available: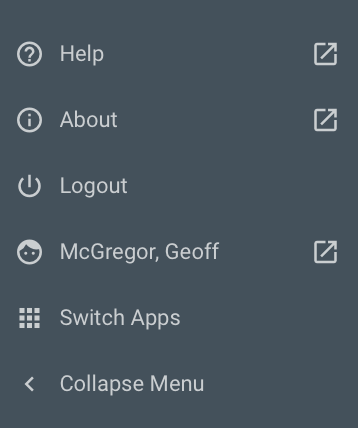 Specifically there is the 'Switch Apps' button that allows users to navigate to other Kuali modules. There are also links to the Kuali Research Support portal via 'Help', details about the app in 'About', user 'Logout', link to your user profile, and the ability to minimize the left navigation.
Other Updates in Configuration
We've made the disclosure logic configurations more streamline via the Project Type screen in Configuration (previously known as Disclosure Requirements). In Project Types you can set rules per project type by a number of criteria using sponsor hierarchies, roles, statuses, award types, etc. with multiple rules allowed per project type. It will be easier to see all the current configurations in the system for projects and make changes as desired. There is also the Manage Projects menu option where you can create manual projects as needed for things you want to track in disclosures that aren't pushed from Sponsored Programs modules. Further details on this functionality can be found in the COI - Configuration - Project Types and COI - Manage Projects