Overview
Award Hierarchy provides a mechanism to organize money that has been authorized for expenditure (obligated funds), or is expected from the Sponsor in the future (anticipated funds) in a multi-level, hierarchical (parent-child-grandchild, etc.) relationship of awards, which describes how the money is managed and used for the organization of the project.
Educational institutions receive sponsored research funding (Awards) through a wide variety of instruments with widely varying terms and degrees of complexity. Funding arrangements may span decades, and changes may occur frequently over time. Institutions need efficient and effective systems to manage these arrangements.
Questions to Ask
Questions to ask yourself when thinking about how your institution might use Award Hierarchy:
do I need to segregate funds for management internally?
do I need to track funds to manage my reporting to the sponsor?
will Kuali Research interface with my institution's financial system?
how do I plan to report on award data?
Using Award Hierarchy
There are many ways to implement and use the Award Hierarchy document. Schools use Award Hierarchy to segregate funds internally for a variety of reasons; for example:
track funding increments separately, typically when the sponsor requires annual financial reporting or prior approval of carry-forward
track projects and cores of a program project
separate funds for management by separate PIs
separate a supplement from the rest of an award
create a holding account and a series of individual internally-funded projects
It's a flexible tool that can be used to meet a variety of internal needs. Below are some examples of how Award Hierarchy can be structured; it is recommended that you decide one method and remain consistent.
NOTE ON TERMINOLOGY: When talking about award hierarchy the highest node award (ending -00001) is considered the parent award and other nodes (i.e. -00002, -00003, etc) are either children, grandchild, great-grandchild, etc. awards. The term "descendants" is the equivalent of children, grandchildren, great-grandchildren, and so on; each of which is also referred to as a "node" in the hierarchy. If it's a hierarchy with no children we refer to those as a single-node hierarchy, whereas, once an award hierarchy is established and at least one child award is created it's considered a multi-node award.
Distributed/Distributable Overview: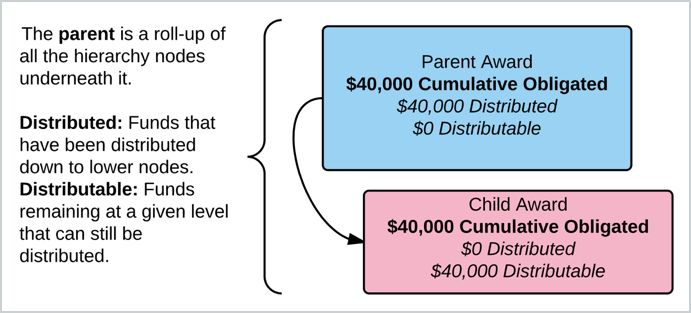 Example 1 - Using children to track award supplements vs. original award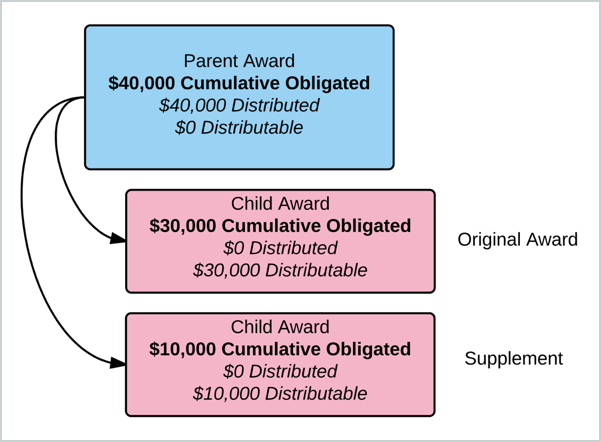 Example 2 - Using children to track multi-projects within a given award
Example 3 - Each child tracks an award year and the grandchild awards are the multi-projects within that year
Example 4 - with No Hierarchy (aka Single Node)