Overview
The Review Checklist functionality in Protocols allows an institution to create a custom functional review checklist for their Admins and/or Reviewers to run through when doing their protocol review. This checklist can ensure consistency and thoroughness of their protocol reviews and as a reference point for further review by admins or to look at prior submission reviews, etc. As a protocol administrator you can create the checklists via the Template functionality and they can be customized and updated as you desire. There can be unique checklist templates per Protocol Type (i.e. IRB and IACUC) to meet your institutional needs and review process. You can also configure whether the checklists are enabled for Admins and/or Reviewer or turned off entirely. Below outlines the steps required to create and enable review checklists and how to use the functionality.
Creating Checklists
The review checklists are created via the Templates tab by a Protocol Administrator as Template Type of Check List. A template can be customized to include the questions and sections you want to include in the checklist to use when reviewing. Each protocol type can have their own checklist template so it can be configured to your protocol review process.
In the Protocol Templates menu all Active, Pending, and Archived Check List templates for the associated protocol Types are displayed. There is only one Active check list template for each Protocol Type and you can edit these templates at any time. Once a template is edited and saved a Pending version is created until it's published when it becomes Active. Prior version(s) go to Archived status and any checklists associated with that template will be maintained under that older version until the next edit when the current Active template is then applied.
More information on template creation using form developer can be found in the Protocols - Templates article.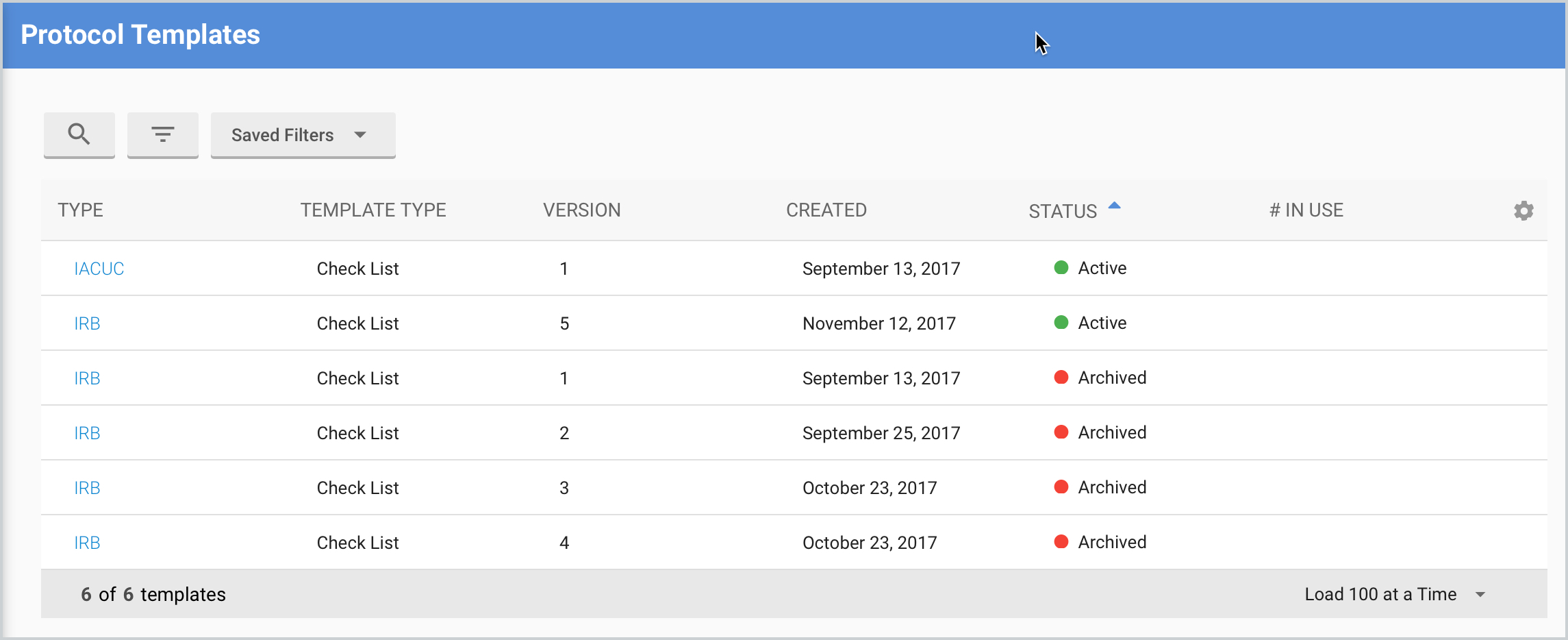 Enabling Checklists
Once you've created a Review Checklist template that is active for the associated Protocol Type you can then enable by role within the IRB Configuration and IACUC Configuration tabs. You have the option to turn on Review Checklists for role of Admins or Assigned Reviewers by flipping the toggle under Enabled to the far right (blue). Or the checklists can be disabled entirely by flipping them the the left (grey).
More information on enabling these options can be found in the Protocols - IRB Configuration and Protocols - IACUC Configuration articles.
Using Review Checklists
When the checklists are enabled and a user is logged into the system under one of the configured roles (Admins and/or Assigned Reviewers) the options of MY CHECKLISTS and CHECKLISTS appear along the top banner of submitted protocols. The checklists options are available to view in protocols that are not pending but on those that are submitted or already reviewed/approved. Below describes using each option and when it will become available.
My Checklist
If a protocol was assigned to a Reviewer or a checklist was initiated/completed on a protocol as an Admin the MY CHECKLIST option will be available to those users when viewing the protocol. This allows you to review the checklist you completed or is still in progress on the protocol. This differs from the other option of CHECKLISTS which gives you the option to see all checklists, not just the one completed by you.
If a checklist is completed you will see the prior answers and can be reviewed for reference. If a review is still in progress the checklist can be completed in conjunction with your review of the protocol to help you during the administrative review.
As you go through the checklist and complete answers you can choose the 'Save' option to retain your answers and once the entire checklist is completed you can 'Mark Complete'.
Checklists
The CHECKLISTS tab within a protocol will display all checklists completed by Admins and Reviewers for the given protocol version. It will display the user that completed, status of the given checklist, and then the checklists can be viewed/expanded for reference on further reviews or for a history of the review process of the protocols.