Study teams with high volumes of research who have multiple protocols with similar information are often spending a lot of time entering the same information into multiple protocols. This functionality will enable them to duplicate protocol application content and reduce the amount of time entering repetitive information.
This feature is the first step towards duplicating any protocol. As a first step, we're releasing the ability to duplicate protocols using active status templates.
This feature is available for configuration in each office's configuration page and is off by default. We suggest customers who do not update their protocol template, roughly 45% of customers, turn this feature on for their study teams. We suggest you leave this feature off for now if your institution does update your template frequently, since template versions are not really known to users, this disabled behavior might appear as random or broken to the researcher. Reach out via a support ticket if you have questions or concerns about whether you should turn this functionality on.
Our next iteration on this feature will address updating protocols when a newer template is active. Once this work is complete, this feature will be available for all protocols.
Summary of Changes
'Duplicate as New' button available on Protocols

users with edit capabilities are able to duplicate protocols using an active template

form data is copied to a New, Initial protocol

new protocol is created using the most recent Active version of the protocol

Activity log entries are added to both protocols

If the protocol is using an inactive template, the Duplicate button will be visible, but disabled

Configuration in your IRB, IBC, and IACUC Configuration pages of 'Allow duplication of protocols using a template with Active status' to control availability for your research teams (by default this is not enabled)
Configuration Page
Confirmation Toast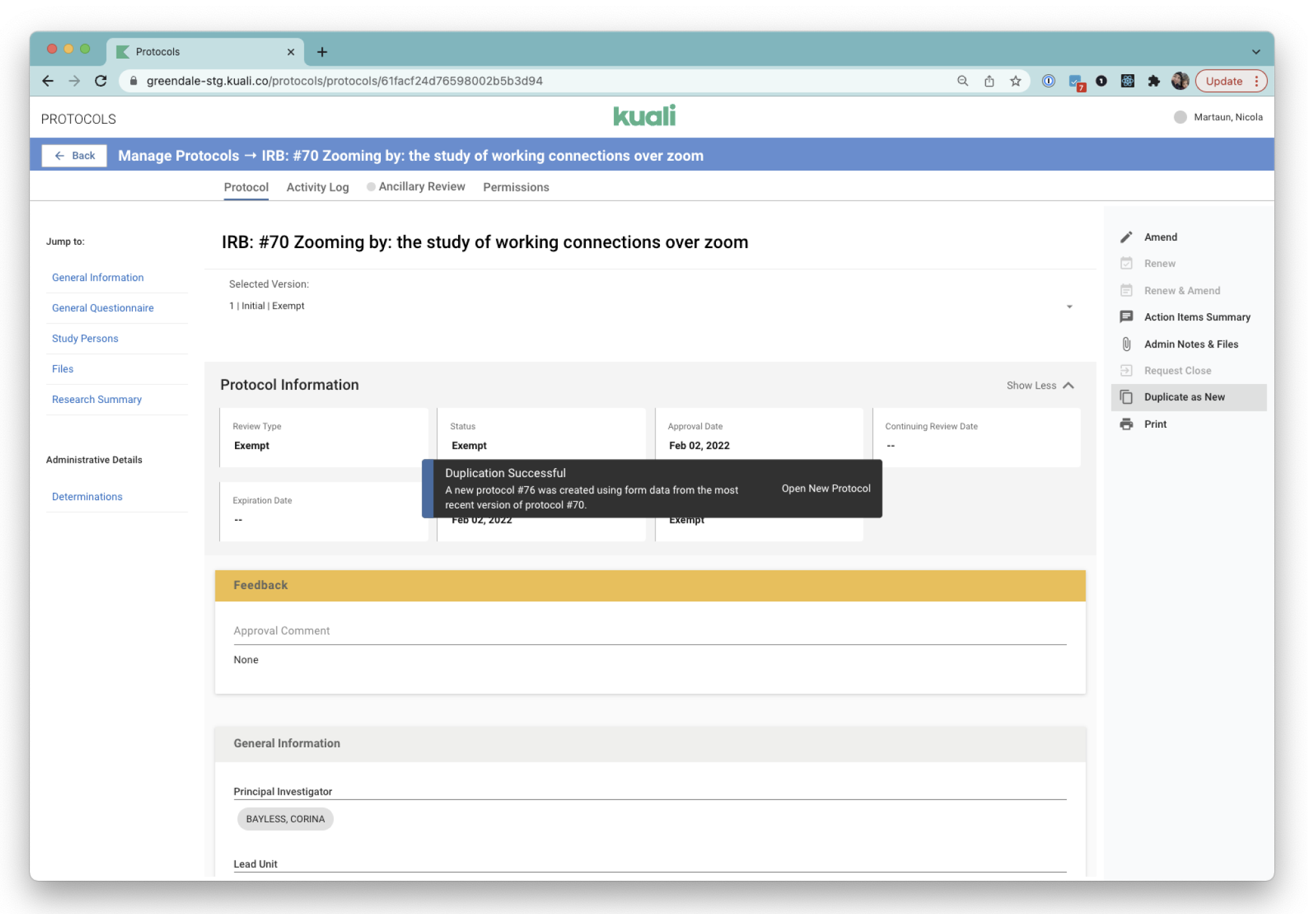 Activity Logs